What a great weekend! Brian took Friday off so we could go to the beach and meet our friends, Roney and Susie in Siesta Key. It was a beautiful day and so relaxing... it helps to have a condo right on the beach to take your tired toddler inside when she is hot and tired. I told Brian that we need to get one in Clearwater so I could go to the beach more! Blythe had so much fun this time. This is only the second time this summer she's been to the beach and the first was not much fn. She was hot and scared of the ocean and didn't care much for the sand. This trip was totally different. She LOVED playing with her sand toys both in and out of the water. She thought it was hilarious when she got hit by an incoming wave and would laugh and laugh (of course we didn't let her get knocked down because that would have been the end of the fun). She even sat in the shallow water with her bucket and shovel and played in the water until we made her leave.



Saturday was my 29th birthday and it was great. We didn't do anything special, but it was fun relaxing and spending time with Brian and Blythe. Of course it helped that they, along with my mom, bought me a new lens for my camera that I absolutely LOVE! Brian also went with me to scout out a tree branch for my next photography project (more to come later on that...). We got attacked by mosquitos in the middle of the day in the woods while he tried to cut down a branch. Meanwhile, I played with my new
camera lens on the nice, mosquito-free path (though it was probably 100 degrees on the hot pavement). Blythe stayed with Poppy while we searched (after we surprised him by walking into his house while he was in the back yard - we didn't know he was home from North Carolina!) After getting attacked by the woodland insects, Brian found an even better tree branch right next to Meme and Poppy's house! So now we have two options and a story to tell about it once I complete my project :-)



Finally we went to dinner as a family which was pretty uneventful (other than running into some friends we haven't seen in awhile). It was relaxing and the perfect way to spend a birthday. Of course the day wasn't complete without a photoshoot of Blythe with my new toy! We stopped at the park on the way home and took some pictures. She's a total ham and gives me a big goofy grin as soon as the camera comes out. You would never know that she's been having thousands of pictures taken of her since she was born 16 months ago ;-) I hope Keller loves the camera just as much!



Sunday was pretty normal. We visited a new church and spent the rest of the day being lazy around the house. It's fun to spend time as a family of three and watch Blythe run around in her flurry of activity. I cherish these times before Keller arrives (in only THREE more weeks!) and want to spoil Blythe with all the attention she can stand! Things for Keller are slowly coming together, though I realized this weekend how little time I have left and kept making a list in my head of all the things that still need to be done. Maybe the nesting is starting to kick in, or maybe it's just the procrastinator in me since my list hasn't even made it on to paper yet!



Here are a few of the pictures we took on the way home from my birthday dinner... The first shows what it would be like to have twins... oh my!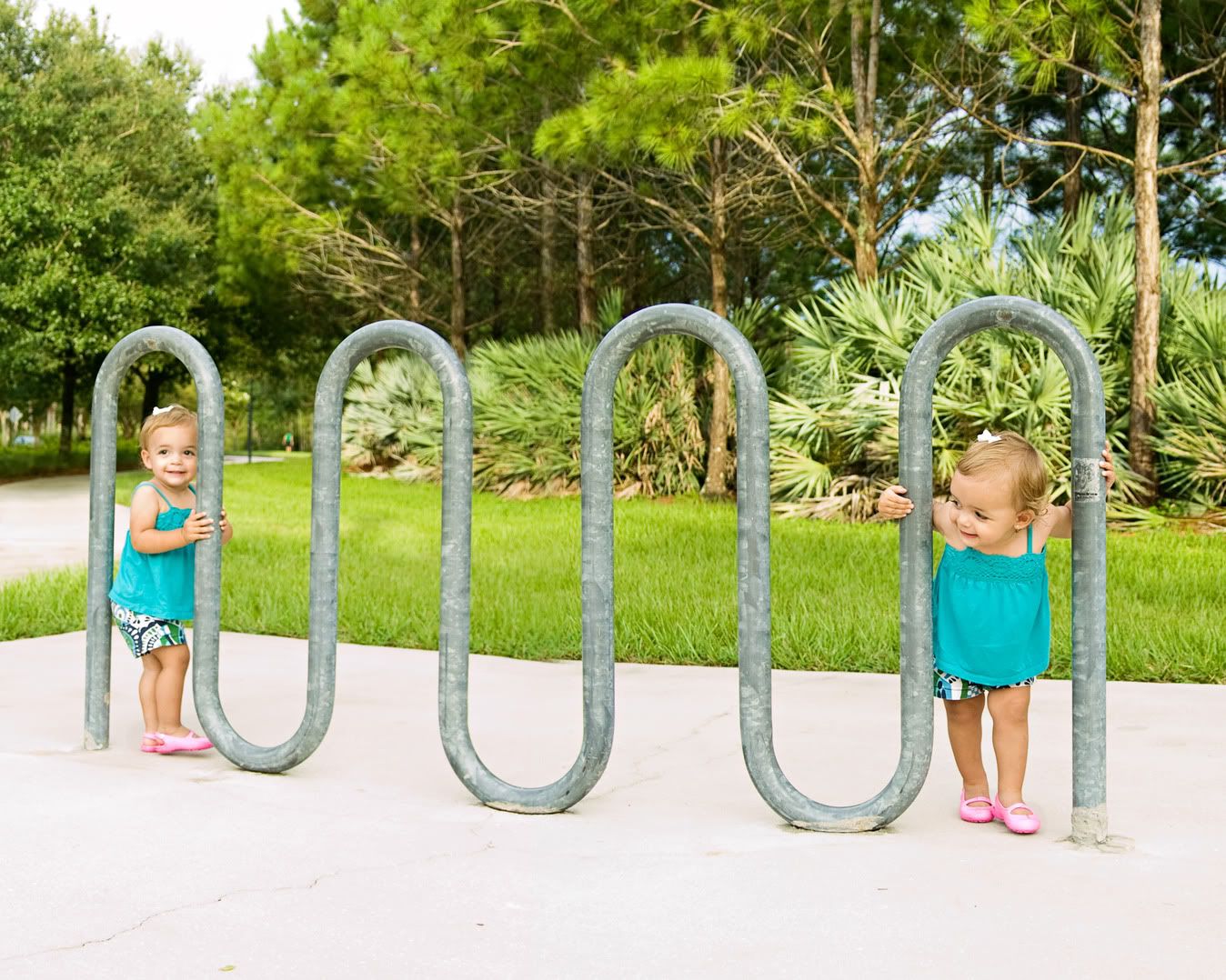 These are just Blythe being silly... she had so much fun running through the bike racks!